Deep Creek Outfitters offers trophy bull elk hunts in the premier units in the southern half of the state. Depending on the hunt dates and the client's needs, camp accommodations may consist of travel trailers, wall tents, or backcountry camps with horses or pack llamas.
 *Nevada does not offer OTC tags and is a draw-only state so you must apply and draw a bull elk tag (with the exception of landowner permits that can be purchased). To get an idea of your drawing odds, here is a link to past drawing statistics:
Nevada offers archery elk hunts that run Aug. 25 – Sept. 16 (with the exception of unit 241 archery which runs Sept. 17-30). Depending on the unit and weather, bulls will typically be rutting and bugling during most of this hunt. The archery hunt is a very fun hunt with a lot of action.
Muzzleloader hunts in most units run Oct. 22 – Nov. 5. By the time this hunt starts, almost all of the bulls are done rutting and have separated from the cows. Bulls will typically be back in their bachelor groups with other bulls. Nevada requires open-sights on muzzleloaders so this can be a tough hunt because of the limited shooting range, but the potential is still there for harvesting a big bull.
Following the muzzleloader season are two rifle seasons, an early rifle that runs Nov. 6 – 20 and a late rifle that goes Nov. 21 – Dec. 4. Both of these hunts have a good chance for snow and cold weather, but it's not uncommon to have fairly warm weather too. Bulls with broken tines are very common, but occasionally you can find a bull that isn't broken. We prefer the early season dates because the weather is usually better, but the late rifle hunt can also produce bulls just as big.
We guide bull elk in the following units. All of these units have a potential to produce 350″+ bulls:
221-223
231
111-115 (BLM land only)
241-242
104, 108, 121
131-132
We also guide cow elk, depredation elk, and spike elk hunts. Contact us for more info on these hunts.
If you have any questions about which hunts to apply for, please give us a call or send us a message!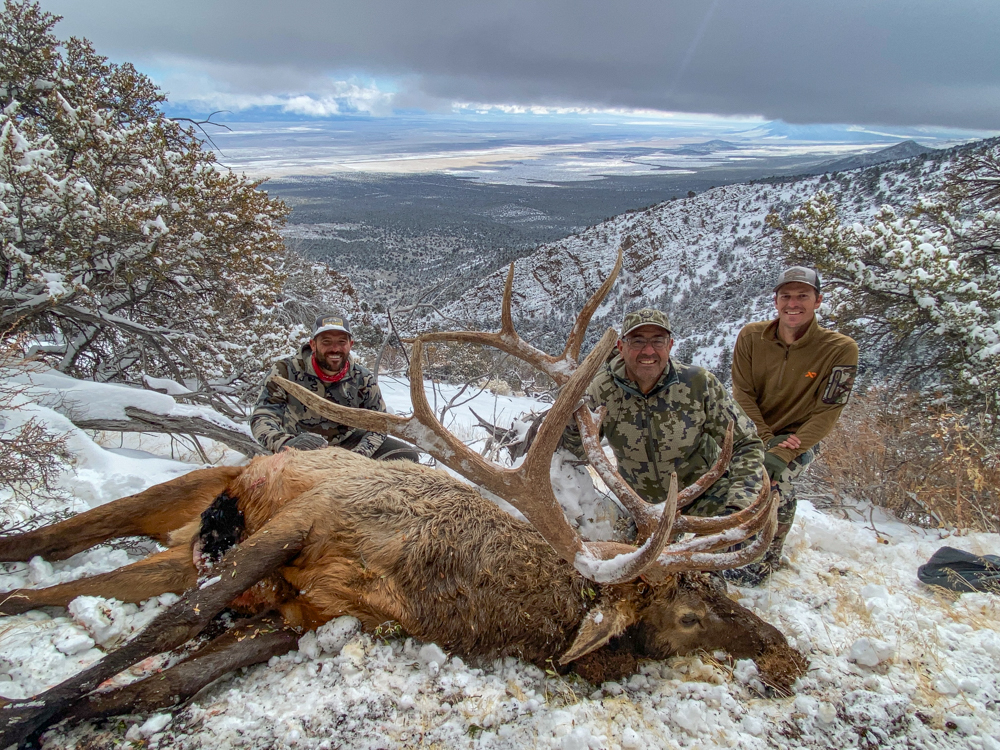 Check out some of our successful hunts!